Declaration of Intention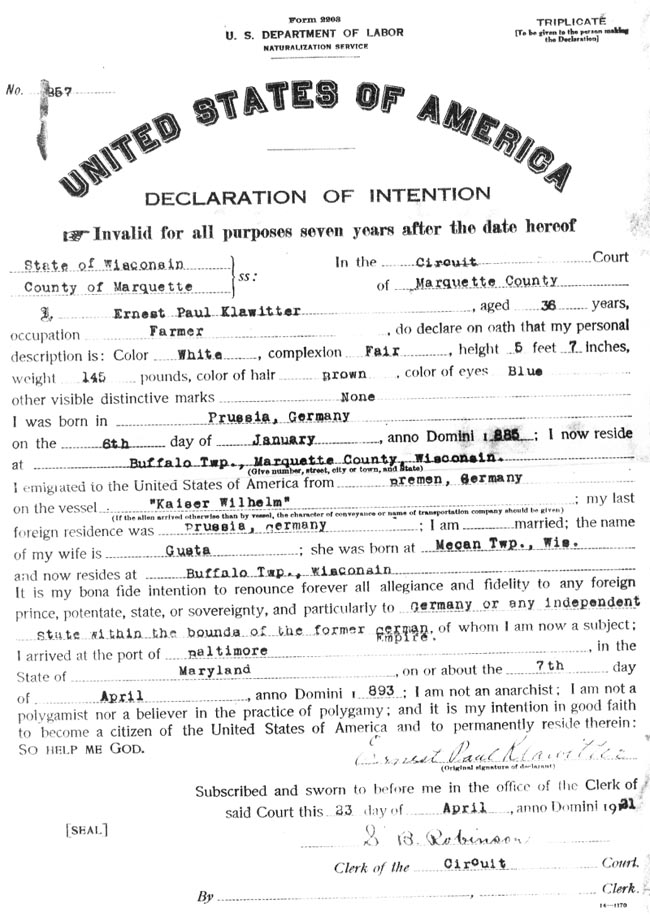 Click to enlarge
&nbsp &nbsp

This is Ernest Paul Klawitter's 2nd Petition for Natural (citizenship). His first one was denied. This 2nd application (dated June 23, 1923) says: Ernest was a farmer living in Buffalo Township, Wis. He was born Jan. 6, 1885 at Friedland, Germany. He immigrated from Bremen, Germany on or about March 24, 1893, arriving at the port of Baltimore, MD on April 7, 1893 on the vessel "Kaiser Wilhelm."

His wife's name was Gusta, and he had 9 children (all born in Buffalo Twp., Wis.): Esther (b. Feb. 3, 1907), Louise (b. Dec. 29, 1907), Dora (b. May 12, 1911), Ella (b. May 18, 1912), Della (b. June 19, 1913), Regina (b. Sept. 7, 1916), Oscar (b. June 24, 1918), Bernita (b. June 29, 1919) and Lascar (b. June 12, 1922).

C.R. Roskie (Register of Deeds; residence - Montello, Wis.) and Chas. W. Gay (County Clerk; residence - Montello) signed that he had lived in the US at least since Jan. 1, 1910. S. B. Robinson was the clerk who signed the forms. The Declaration of Intention says Ernest Paul Klawitter had a fair complexion, 5 feet 7 inches tall, weight 145 lbs., brown hair, blue eyes.
&nbsp